I am a big fan of YA (young adult) books. Over the past few years, I have begun to compile a list of some of my favorites. They include fantasy and contemporary genres. Learn more about them, and then check them out for yourself.
Small Favors by Erin A. Craig
This is a stunning atmospheric YA fantasy horror novel. Craig creates the beautiful world of Amity Falls. Ellerie lives in the seemingly quiet town, but there are more sinister creatures that lurk beyond in the forest. With changing seasons and horrifying happenings, Ellerie must try to save Amity Falls and the people she loves before it is too late. I absolutely adored this book and found it wonderfully captivating.
Counting Down with You by Tashie Bhuiyan
This adorable contemporary novel follows Karina, whose parents are in Bangladesh for four weeks. While she is alone, she decides to help to tutor the resident bad-boy at school Ace Clyde, which then turns into a fake dating scheme, and it turns out that maybe Ace isn't quite so bad. This is such a fun and quick perfect summer read.
Six Crimson Cranes by Elizabeth Lim
This stunning retelling of The Six Swans by the Brothers Grimm reads so much like a fairytale. Shiori is the princess of Kiata and has magic that she hides. But before her betrothal ceremony, something she never wanted, she loses control and is banished from the kingdom, turning her brothers into cranes. Shiori is not allowed to speak, for if she does, her brothers will die. This was such a beautiful story, and I am looking forward to the sequel, The Dragon's Promise, to be released in August of this year.
Today Tonight Tomorrow by Rachel Lynn Solomon
This is such a cute YA contemporary! I loved the banter between the characters and the vivid descriptions of Seattle. It makes me want to visit someday! On the last day of high school, either Rowan or Neil will be picked for valedictorian. When Neil is given the honor, Rowan has one last chance to be victorious during the senior class game. Running all over Seattle, Rowan and Neil decide to team up until they are the last ones standing, then compete against each other to win the cash prize. But, perhaps their rivalry will become a friendship, or even something more. In a heartwarming story of the end of an era that follows teens as they figure out what is next after high school, this book is sure to make you smile!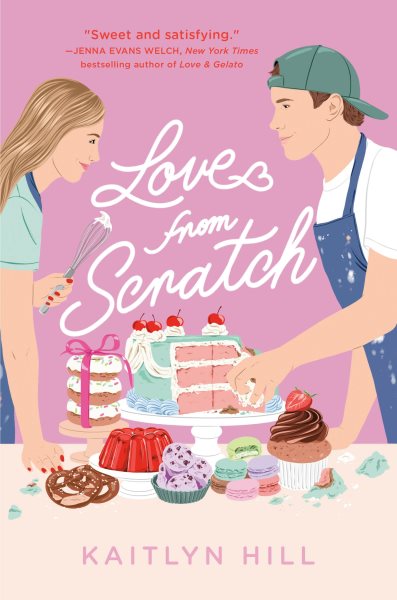 Love From Scratch by Kaitlyn Hill
This book is an adorably sweet debut that follows Reese and Benny, two summer interns at Friends of Flavor, a cooking channel that has become quite popular. The two interns are competing for the upcoming fall internship. Through this, they realize that perhaps they are more than just friends. The banter in this book is so funny, but it also brings up important issues like social media culture and women's empowerment.