I've been thinking about J.R.R. Tolkien and the world of The Lord of the Rings for over 20 years and can likely attribute my scholarly pursuits to an early fascination with The Hobbit. March 25 is the anniversary of Frodo destroying the One Ring in the fires of Mount Doom. His journey takes him about six months of travel, and nearly 1800 miles, mainly on foot.
For modern readers, The Hobbit and the Lord of the Rings trilogy can be hard to enjoy as books. Whether due to watching the Peter Jackson movies from a young age, or just the differences in writing style and content between Tolkien's time and now, it's not unusual for the very demographic Tolkien intended for his books to be less interested in reading them now than 60+ years ago. The Hobbit was published in 1937, after all, and the LoTR series in 1954 and 1955. I LOVE The Hobbit, though most readers find they enjoy the main trilogy more. Bilbo just speaks to me as a character. All he wants is to live in his Hobbit hole and be sassy, and honestly? Same.
Perhaps you might want to read something similar, though, and I have some ideas for you!
Terry Brooks
Terry Brooks has been writing since the '70s, and his main series, Shannara, spans 29 books. Fear not! Those books are chunked into trilogies and quartets and can be read without reading all of the background material. Yes, publication-wise, you get some depth out of reading them all in order, but frankly, I find the early books dry and hard to read. Fantasy writing has changed a lot since The Sword of Shannara in 1977, and unless you're super into the world, it can be off-putting to start at the beginning. I would either recommend starting with the first book in terms of the timeline, The Word and the Void (which is a bit less high fantasy and takes place in Illinois for the most part) OR my favorite character is introduced in Isle Witch.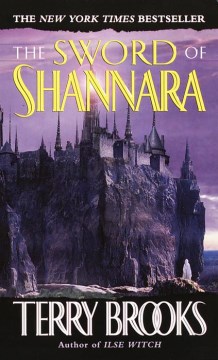 The Sword of Shannara
Living in peaceful Shady Vale, Shea Ohmsford knew little of the troubles that plagued the rest of the world. Then the giant, forbidding Allanon revealed that the supposedly dead Warlock Lord was plotting to destroy the world. The sole weapon against this Power of Darkness was the Sword of Shannara, which could only be used by a true heir of Shannara—Shea being the last of the bloodline, upon whom all hope rested. Soon a Skull Bearer, dread minion of Evil, flew into the Vale, seeking to destroy Shea. To save the Vale, Shea fled, drawing the Skull Bearer after him. (Provided by Publisher)
The Voyage of the Jerle Shannara
It's about 450 years after the original trilogy, and there are flying boats, a mystical quest, and it begins with an Elf found floating and nearly dead in the Ocean, 30 years after setting out on a quest of his own.
---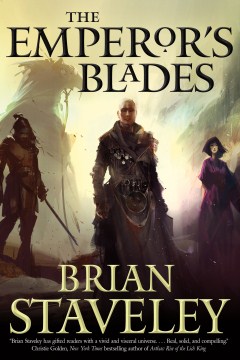 The Emperor's Blades by Brian Staveley
The children of an assassinated emperor try to stay alive and avenge their father's death while continuing down their individual life paths, one in a monastery, another training with elite soldiers, and one appointed a minister determined to prove herself to her people. (Provided by Publisher)
Starless by Jacqueline Carey
Maybe a bit of a reach to call this Tolkien-esque, but in the way that all fantasy since Tolkien is inspired by him, Carey's world-building reflects medieval ideas in fantasy realms, in the way Tolkien was known for doing. I'm obsessed with this book. It's a stand-alone novel, too, so low commitment. Though if you enjoy it, Carey's seminal work Kushiel's Dart ranks among one of my favorite books of all time.
Black Sun by Rebecca Roanhorse
And finally, one I have not read yet but intend to soon (and I've read other books of hers and enjoyed).
A god will return when the earth and sky converge under the black sun in the holy city of Tova. The winter solstice is usually a time for celebration and renewal, but this year it coincides with a solar eclipse, a rare celestial event proscribed by the Sun Priest as an unbalancing of the world. Meanwhile, a ship launches from a distant city bound for Tova and is set to arrive on the solstice. The captain of the ship, Xiala, is a disgraced Teek whose song can calm the waters around her as easily as it can warp a man's mind. Her ship carries one passenger. Described as harmless, the passenger, Serapio, is a young man, blind, scarred, and cloaked in destiny. As Xiala well knows, when a man is described as harmless, he usually ends up being a villain. Crafted with unforgettable characters, Rebecca Roanhorse has created an epic adventure exploring the decadence of power amidst the weight of history and the struggle of individuals swimming against the confines of society and their broken pasts in the most original series debut of the decade. (Provided by publisher.)